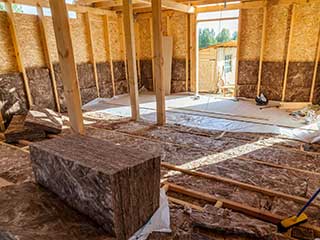 Is Attic Insulation Really That Important?
Quite simply: yes! Attic insulation has a huge effect on your monthly energy bill. It's what helps to keep the temperature of your home comfortable, and keeps heat trapped inside instead of escaping. If you've noticed that your energy costs seem to be rising, the culprit may be wear and tear decreasing the effectiveness of your insulation.
What Problems Can Arise?
Elements like fire, or simply smoke, can cause harm to the integrity of your attic's insulation. However, water damage is particularly worrisome and needs attention. Lingering water in insulation can create mold growth, and spores of it can pollute the air in your house. This could be a health hazard if not taken care of, so it's best to do so right away.
Another cause of concern for your insulation, as well as your household overall, is rodents. Even if they've gone from your attic, it's highly likely they've left behind various problems. Aside from the insulation being impaired, as they like to dig at it and use it for nesting, their waste carries disease. This can easily enter your home, either through the items stored up there, or by tracking it down on your shoes.
What Can We Do For You?
Depending on the specific problem, our trained team will be able to decide on a solution that works best for your home! If the insulation in place has simply gotten old and isn't working as well as it should be, we can either add some additional fresh padding to it to help, or replace it altogether as needed. We can also switch it out for something new due to damage.
Our experts can clean and decontaminate the entire attic as well as your crawl space, using a sterilizing spray that will take care of what was left behind by pests in no time too!
Take The First Step!
Call Crawl Space Cleaning Los Angeles now, and let us ensure that your home is safe and that your energy spending is as low as possible.
You can also count on us for:
Mold Inspection & Removal
Crawl Space Waterproofing
Attic Ventilation Improvements