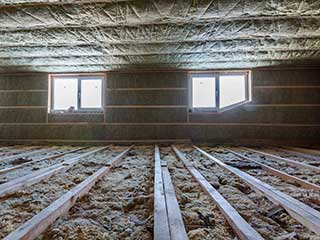 What Is An Attic Cleaning?
An attic cleaning entails a professional coming out to your home to use a high-powered vacuum and other such equipment to clear out all the dust, debris, and otherwise from your attic. It's done carefully to be sure that none of the materials being picked up can pollute the air of the household to cause further trouble and can be safely disposed of to leave the area pristine. It's recommended that they're done periodically in order to prevent issues that can be associated with a heavily dirty attic. These troubles can be lowered energy efficiency, poor air quality, pest infestations, mold growth, and other such problems.
What Is Attic Decontamination?
While cleaning is more geared toward removing dust and other materials from an attic, including rodent droppings, a decontamination is a more focused means of treating an attic after an infestation has occurred. After the rodents have all been taken care of and the attic is cleared of them, an expert can then use a special sterilizing spray. This is to erase any diseases that the pests may have left behind from their waste, or even their bodies if they wound up trapped in the area. It helps to protect the household from these bacteria spreading into it and causing health issues.
Which Is Best For You?
It depends on what your problem is; if you've simply been noticing that your energy bill is rising, your allergies or other breathing conditions are aggravated even indoors, or are concerned about mold growing in your attic, all of these concerns would be taken care of with an attic cleaning. If instead you're aware that rodents have been in your attic, a decontamination would certainly be a good idea. However, you may want to have both services done, especially if you've had rodents but also haven't had your attic cleaned in a long time. Not only will a cleaning before the decontamination help it be done more thoroughly, but it also helps to prevent further pest issues. Pests are enticed by a messy attic, so cleanliness can be extremely beneficial. Particularly if you continue to have them done periodically!