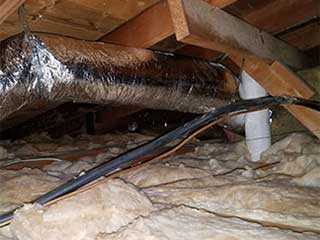 Does It Really Matter?
You likely haven't put much thought into your crawl space, especially not its cleanliness, so is it really necessary? For the sake of your home and your family's well being, the answer is yes!
There are many vital components of your home located there, such as pipes and insulation. All of these can be heavily damaged if your crawl space isn't regularly cleaned, and more so, there are health hazards linked to it as well. It's best to be safe, and get it taken care of!
Animals love to use the space as a nesting area and will destroy your insulation to use for that purpose. They can also wreck the vapor barrier that reduces the risk of mildew. Most concerningly, however, is that the buildup of waste from the pests will create a cesspool of disease, which can make its way into your household. Alternatively, if water has gotten into the space, not only will it harm insulation and wood, but mold will grow and spread to eat away at these materials as well and also pose a health risk.
What Should You Look For?
You may be able to easily check for signs that your crawl space needs cleaning just by opening it up and looking in with a flashlight. If you notice mold, animal droppings, or water discoloration, all of these indicate that it's time for a cleaning. Smell may also let you know that it's needed, as foul odors emanate from both animal waste as well as mold.
Let Us Get To Work!
You won't have to worry about any of these issues for long if you give us a call! Our technicians will come out and carefully remove all contaminated or damaged materials, dust or otherwise. We'll do so safely so that no cross-contamination occurs with your home! We can also replace insulation if needed.
Don't Wait Any Longer!
Call Crawl Space Cleaning Los Angeles, CA now, and we'll make sure that your crawl space is cleared out in no time.