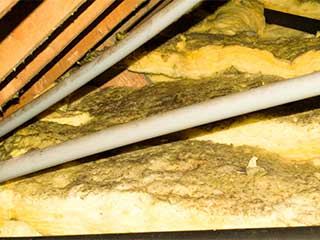 There's something happening up in your attic. You may not see it, but it's happening. Day by day your attic's insulation is slowly wearing out. First, little holes and gaps start forming in it and diminishing its effectiveness. Eventually, it will be necessary to remove it and replace it with new one. And that is when our service can come in handy to you. Here's more information about it.
Why is it Important to Remove the Old Insulation?
As surely you'll discover soon enough, worn-out insulation allows air to flow through it. Meaning, it will be that much harder for you to control the temperature at your house, while you'll be spending more money on air conditioning. On rainy days, you may also discover water leaks on the ceiling and walls, that might lead to wetness and even accumulation of mold, which at some point may affect the health of you and your family. Additionally, the air transfer and the slow crumbling of the old material may also lead to unpleasant noises and odors coming from upstairs.
How is it Removed?
So, what should you expect of our team? Once they arrive they will start with removing the old insulation material and disposing of it safely in a designated place. The damaged insulation may also be contaminated with mold and bacteria and so it is very important to throw it outside. The team will ensure that none of the leftovers is still attached to the ceiling, floor, or walls, and will also dispose of any leftovers that might have fallen on the attic's floor. Once the whole old layer is removed the attic will be ready for the installation of new insulation.
Why Should You Call Professionals to Remove it?
There's more than one reason why you should hire professionals to remove the old insulation. First, professional technicians will remove all of the material and its leftovers. Secondly, experienced professionals will know to identify cases when your attic has been contaminated due to its worn-out protection and they are qualified to handle it and dispose of any trace of such infection. A job done by professionals will also ensure that your attic will be completely ready for the installation of the new layer. Call the professionals of Crawl Space Cleaning Los Angeles – we can help!