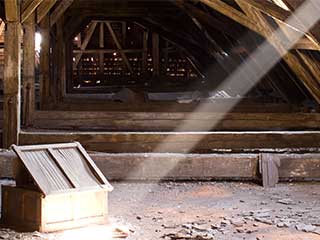 Noticeable Foul Odors
If you've been noticing particularly nasty smells, especially if you're near the entrance of your crawl space, this is a big indication that it needs to be tended to. Mold and mildew often create an unpleasant scent, and that usually means they're already eating sway at the components of your crawl space and weakening the wood and pipes. It also entails a health risk thanks to the spores. The other common cause of a bad odor is animal infestation, rodents in particular. The smell may be because of the waste they leave behind which also spread diseases that can enter your home, or cadavers from getting trapped. In any case, it's best to have it all cleaned out as soon as possible.
Standing Water Or Debris
You may be able to investigate the crawl space with a flashlight and see for yourself that something is amiss. There might be standing water, or clear signs of water damage such as discolored areas on the wood and pipes and bowing of the wood structures from being water logged. You could also find a lot of dust and debris, including parts of the crawl space itself if it's damaged enough. Animal waste may also be visible. All of these mean that it's far past time to get things checked out!
Energy Bill Rising
While it may not seem like your crawl space should have much to do with energy efficiency, there is certainly a connection! The insulation down there is just as important as anywhere else in keeping air trapped inside to circulate and stabilize the temperature and has a much higher risk of damage occurring to it. Water may destroy it and cause mold to grow, animals may tear it up, whatever the problem it means that your home is losing energy from it and wasting money in the long run. Periodically clearing out the crawl space can get rid of anything that can or has already damaged your insulation, and give technicians a chance to replace it if needed to make sure that your home isn't suffering an energy drain.