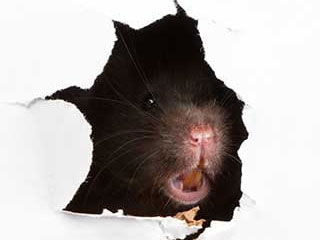 Rodents are usually shy and avoid human contact. You might have a family of rats or mice nesting in the attic for weeks and wouldn't know it until one decides to explore the kitchen for food or nesting materials. The best approach is to have them removed and to then professionally proof your house and prevent the infestation from reoccurring.
Eliminating Possible Entry Points
Rodents must first enter the house before they feel comfortable to build a nest and start a family. Therefore, blocking all potential access points will reduce the chance of an infiltration and subsequent infestation. Mice can squeeze through a ¼ " hole while rats need at least 1" to go through. To prevent them form entering your house, our team will examine the entire perimeter outside and inside your attic and identify all possible entry points including cracks in wooden windows and spaces around pipes and cables, and most importantly – the space under the doors. We will then proceed to seal all these areas, and attach or replace worn door sweeps.
Cleaning The Area and Setting Traps
Rodents often build their nests in the attic, because it usually offers a range of available nesting materials and is the least active room in most houses. Loose insolation, cardboard boxes and stored old cloths are all perfect for gnawing, chewing and building the ideal bed for rodents. Hence, keeping having your attic professionally cleaned and decontaminated, and making sure the insulation is checked and replaced when necessary is of utmost importance if you're looking to prevent these pests from getting inside. If you suspect there are already rats or mice inside your home, then our team can set non-lethal traps to capture them in humane ways. We'll then remove them without hurting them and make sure any leftover nests are thoroughly removed and that the area is decontaminated afterwards.
Let Us Handle It
Dealing with rodents requires protective equipment and experience, as these critters are known for carrying all sorts of transmittable diseases. Call today and let our experts at Attic Cleaning Los Angeles make sure your property is free of these pests.